By Jack Callahan
When it comes to off-roading on your dirt bike, Massachusetts is home to trails and parks offering scenic views, challenges for all levels of riders and best of all, fun riding. Different trails across the state offer different varieties of terrain, ranging from smooth open trails to technical and rocky singletrack riding.
1.Plainville Trails
Variety:⭐⭐⭐⭐(4/5)
Difficulty:⭐⭐(2/5)
Riding Level: Novice – Amateur
Just behind Hilco Vision on West Bacon Street in Plainville, there is a small area of trails perfect for beginners. Although the area is small, there are plenty of easy flowing riding trails and even some more difficult steep and rocky singletracks.
Just as you enter the trails, you are dumped onto a wide open section of hard packed dirt that leads down the main path. As you go farther down, there are more and more trails splitting off. Lots of these trails consist of nice flowing whoops (small hills in succession), which allow you to open up the throttle and pick up some speed. Other trails offer some nice flowy paths with little obstacles for a more laid back ride.
Local rider from North Attleboro, Chris Callahan just began riding this year and has used these trails to improve and prepare himself for harder trails.. He said, "The trails here are great and offer good variety considering how small the area is. It was a great place to learn and prepare myself for the more difficult trails in the area."
There is also a good amount of narrower rocky sections that are sure to provide a challenge, especially in combination with all the puddles found on the trails. At the back of the wooded area, you will find a small circular track with rocks and roots that will challenge you as you try to make it around a lap as quickly as possible. Riding in this area is a great warmup before heading only a couple minutes down the road to Foxboro and Wrentham.
2. F. Gilbert Hills State Forest (Foxboro)
Variety:⭐⭐(2/5)
Difficulty:⭐⭐⭐(3/5)
Riding Level: Amateur
Foxboro is home to a dense forest that offers a small area of singletrack trails. The trails in Foxboro are very rocky and narrow, making for a slow and technical ride. Most of the narrow trails are completely surrounded by trees, so there is not much room to open the throttle while riding here. The scenery beyond the trees is very pleasant with several watering holes and ponds. Riding at Foxboro can be a bit intimidating because of how small and rocky the trails are, so it is very important that you are comfortable with your bike and know how to handle it. It is especially important to have good clutch control to allow you to get your front tire over rocks and logs that obstruct the trail. Most of the ride will be low speed, keeping you in first or second gear. Standing and maneuvering your bike is also key to make it through the tight, rocky terrain making for an intense and physical ride.
3.Wrentham State Forest
Variety:⭐⭐⭐(3/5)
Difficulty:⭐⭐⭐(3/5)
Riding Level: Mostly Amateur – Some Expert
Similar to Foxboro, Wrentham is home to rocky singletrack riding, but in addition offers some great flowy and open trails with hard packed dirt. These fast and flowy trails are easily accessed from the main forest and are great for picking up speed and not having to worry about obstructions.
Kyle Hurley, a teenager from Plainville said, "Wrentham is my go-to place. The trails are very challenging and rocky but there are also easy and wide open trails right outside which gives you options depending on what kind of riding you want to do." The singletrack in Wrentham is also completely surrounded by trees, once again making for slow and technical riding. What sets Wrentham trails apart from Foxboro are the rock features. Although both trails are rocky, Wrentham has much larger rock features that can be climbed and ridden on, while Foxboro mainly has an abundance of smaller rocks.
Overall, Wrentham is much of the same riding as Foxboro with a similar difficulty level, so it's best to be confident on your bike before venturing to these trails. Dylan Vierkant, a friend of Kyle Hurley said, "Kyle brought me to Wrentham to show me how to ride a dirtbike for the first time. The trails were way too difficult for a first time rider so be careful if you're a beginner."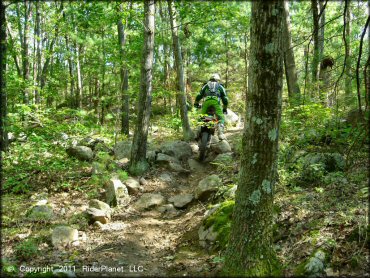 4.Freetown – Fall River State Forest
Variety:⭐⭐⭐⭐⭐(5/5)
Difficulty:⭐⭐⭐⭐(4/5)
Riding Level: Amateur – Expert
Freetown State Forest is bound to offer a full day of fun riding for any level of rider. The wooded area is home to 25 miles of trails ranging from moderate to expert, giving you countless hours of riding. The west side of the forest is great for newer riders because it has smooth and fast trails similar to Plainville, but there are much more of them. There are also a lot more climbs and descents on the trails which create a super fun and rewarding riding experience.
Crossing the street to the eastern trails is where things get interesting. The trails are much rockier and even offer some man-made features like small wooden bridges. The east side is more suited for higher level riders but can also be a great place for a beginner to challenge themselves. You can even ride on top of tall rock cliffs which gives a great scenic view of the surrounding forest. Freetown is the ultimate place for riders in the area. It provides the most variety of trail types ensuring that you will have a good time.